Funds secured to re-design Tarland burn for nature and climate change 
The first step in restoring a degraded watercourse in Deeside has been given the green light thanks to an £84,000 funding boost from the Scottish Government's Nature Restoration Fund, managed by NatureScot. The Tarland Burn, which flows into the River Dee at Aboyne, is classified as having ecologically low status due to its water quality, shape of beds and banks, and disconnection from the surrounding floodplain. A new project to re-design a 4-kilometre stretch of the burn aims to regenerate it, bringing a raft of benefits for nature and the region's resilience to climate change.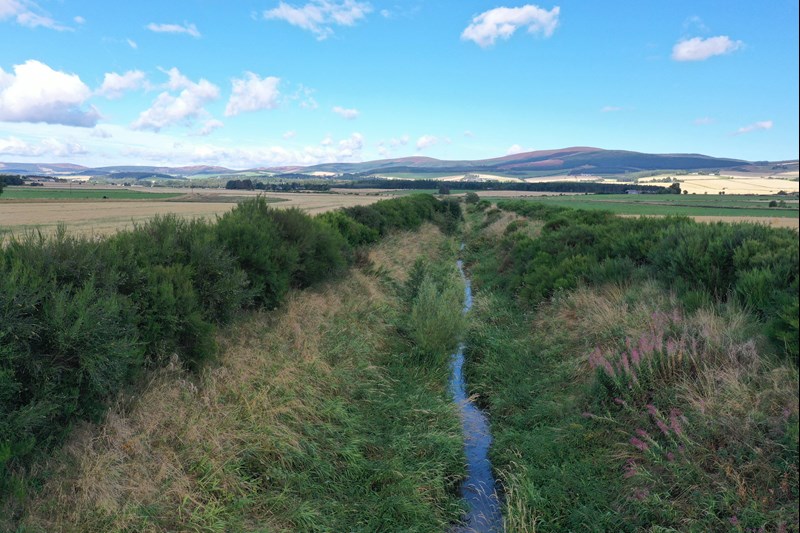 Photography Credit: Richard Humpidge, RSPB
A collaboration between the Tarland Development Group, the Dee Catchment Partnership, RSPB and The MacRobert Trust Estate, this development phase of the restoration will create a nature-based design that works for both people and biodiversity, building on previous studies in the area, as Kathy Dale, Chair of Tarland Wetlands Group, explains: "To restore this section of the Tarland Burn and its floodplain, we'll need to work with the river's natural processes, to design a watercourse that can develop within the context of the wider catchment. We'll focus on low-maintenance designs that are sympathetic to local aesthetics and the agricultural surroundings, and offer opportunities for community amenity." 
The area downstream of Tarland was originally one of the largest most complex wetlands on Deeside, but is now a deep ditch disconnected from its floodplain. This has devastating consequences for nature, as the Dee Catchment Partnership's Manager, Dr Susan Cooksley, explains: "Across North East Scotland, centuries of drainage and realignment have created high quality agricultural land, but over time this has resulted in thousands of burns that are incredibly poor for nature, promote flooding and degrade habitats downstream right down into the River Dee itself. Former floodplains were once essential parts of the river system, storing water and carbon, and providing rich habitats for wildlife. These ghost wetlands need to be reinstated wherever possible as a vital part of building climate resilience and reversing the biodiversity crisis. The Tarland Burn is part of the River Dee Special Area of Conservation, internationally recognised for populations of otter, freshwater pearl mussel and Atlantic salmon, and should be supporting all these special species, not furthering their decline.
"We are working with cbec eco-engineering to produce design options that will allow the river to reconnect with the floodplain once again. Options may include re-meandering, placement of large woody structures and the creation of wetlands and ponds," continues Susan. "A design that will boost habitats for wildlife and mitigate the effects of climate change by sequestering carbon and storing water, all within a thriving landscape that people can enjoy."  
A community drop-in event on the proposed design options will be held in Tarland on Thursday 30 March, 2pm-8pm, in the Upper Hall of The MacRobert Hall.